First it was Coca-cola, then it was Nutella. For the last couple of years the big brands have been thinking about how to take advantage of consumers' 'I am what I buy' attitude. By allowing customers to stamp their names directly onto their products, brands allow them to take ownership of the product and make it their own.
This, according to many market leaders, is the start of a larger trend towards product personalisation. However, rather than just giving products the one-on-one treatment that you would expect from a service, companies are now looking at how personalised content can be used as a lead nurturing tool. The media in particular are driving at more personalised content delivery.
Tasty, the recipe-book offshoot of Buzzfeed, is just one example.
For those who don't know, Tasty post video recipes on Facebook, which doesn't sound that interesting. But until you've seen their glorious cheesy, melty, umptious creations up-close and in full 4k, you just won't understand. They've built up a Facebook foodie following of over 75 million and have just launched their new Tasty cookbook just in time for Christmas, and it's personalised content genius.
Not only can customers select the recipes that they would like to have in their book, but can also personalise the front page message to whoever they're gifting the book to. Also, with every cookbook comes a 'limited edition' Tasty apron as part of the package.
What's the price? $37.
By creating a product out of great content, Tasty have not only reversed the content marketing model but done it brilliantly (and profitably). They've created a movement of customers that doesn't mind paying over the odds for a cookbook, because they've already had a whole lot of content value in return.
What Tasty (and Buzzfeed as a whole) get that many other brands don't is that to be successful in the content marketing world, you need to create high-quality content with personality that satisfies customer impulses. In this way, their content and brand offerings are highly personalised.
Similarly, CNN have been experimenting with chatbots to deliver personalised content to their readers. Readers can message a question or area of interest to CNN on WhatsApp, and CNN will deliver related content direct to their messaging thread. Delivering content on this one-to-one personalised basis has been touted as the future of news, and is, it is thought likely to be the future of marketing and, in particular, lead nurturing.
It takes advantage of the user's face to flog its lippy and foundation by suggesting looks that they can buy or allowing them to try out any of their products on their face before they buy, even whilst they're in the shop.
You can also share your look on social media. Here's me in the Fuchsia Splash look: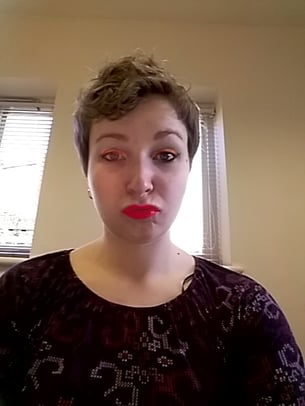 Ok so it's not great, but the impulse behind it is well intended, and, if nothing else, it'll create a bit of a stir on Twitter.
Using personalised content as a lead nurturing tool allows brands to show how their products fit directly into their customer's lives and therefore encourage them to buy. However, the main power of personalised content is that it shows customers that the brand understands them better than any other company.
So much so that the brand knows what you need before you even enter the sales funnel.
This is something that HubSpot has taken advantage of. With it's Email Signature Generator, HubSpot has pre-empted it's target persona's needs outside of the funnel (OOFU). This content is not only highly personalised (it will make an individual's email signature for them) but shows that HubSpot understand their potential customer's needs.
Personalised content therefore is not only effective for lead nurturing, but creates a strong bond between brand and customer by offering a one-to-one service connection that goes beyond the sales funnel. Personalised content shows customers that brands don't just want to sell to them but want to understand them in order to be useful, helpful and interesting to them.
So how can you start using personalised content to your advantage?
Know your personas inside out and act on them: don't just leave them to go dusty in a draw. They are living breathing things and they needed to be treated as such, attend to their needs and nurture them well and, like a Tamagotchi, they'll soon start rewarding you.

Think outside of the funnel: don't just think about what content will nurture them, but the content that your personas will find useful, helpful and interesting. Do they want educating? Do they want tools to help them work? Think about what their real needs are and work from there to produce content.

Technology is your friend: don't just use technology for the sake of it, but thinking about how you can use it to make your content more personalised is worthwhile. It's opening up a whole realm of new possibilities for personalisation that don't always stretch the budget, so stay informed of the latest technological tools and how you can take advantage of them.

Find a way to connect to your personas on a one-to-one level, what can your brand offer them, how can it be useful, helpful or interesting, or make their lives a little easier? Making your content connect to customers is the basis of successful personalisation.